Your first visit to the Active Family Chiropractic and Wellness Centre will really be about getting to know the Chiropractor and getting to the root of your problem for a correct chiropractic diagnosis. It will be informative, relaxing and comfortable. Your first visit will usually take 30 minutes.
WHAT TO BRING
On your first visit, please be sure to bring a list of your questions and concerns, as well as a list of any medications you may be taking. If you had X-ray/MRI/CT examinations recently and have access to the reports, please bring copies of those. You are also welcome to bring a friend or family member along.
PATIENT FORMS
Our front desk team will welcome you as a member of our family when you enter. You will then be requested to complete our new patient forms. This paperwork provides us with your health history and information on your condition. Click on our INTAKE FORMS link to fill out your form before your visit and save yourself some time. If you prefer to complete the paperwork in our office, please arrive 30 minutes early.
CONSULTATION

Next, you will have a consultation with the chiropractor to discuss your health-related problems, concerns, and potential chiropractic solutions and treatment options.
EXAMINATION

After your consultation, the chiropractor will perform a complete chiropractic examination which involves checking your posture, balance, range of motion, spinal joints, and nerve tests.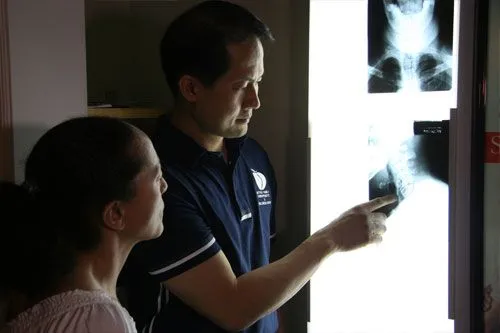 X-RAY STUDIES

After the examination, if any X-rays are required, they will be taken in the office. Nothing will be done in our office without your consent. Your next appointment will then be scheduled which will include your report of findings (see below).
YOUR SECOND VISIT: REPORT OF FINDINGS

During your second visit, the chiropractor will explain to you in detail the results of your examination and X-ray. If the chiropractor feels that they can help you with your health concerns, a program of care will be recommended. Once the specific recommendation has been explained, your first chiropractic adjustment will then be performed. At the end of the visit, our chiropractic assistant will work out a schedule of recommended visits with you. This visit will usually take 30-40 minutes.